El Fuerte Marbella tributes Elvira Vidal: 'La Dama de El Fuerte'.
The emblematic 5-star hotel has dedicated its best room to her, a spectacular 85m2 suite with sea views and a 29m2 terrace.
The writer Ana María Mata, author of the book "La Dama de El Fuerte", remember how the malagueña, former owner of El Fuerte, was one of the first tourist promoters of Marbella.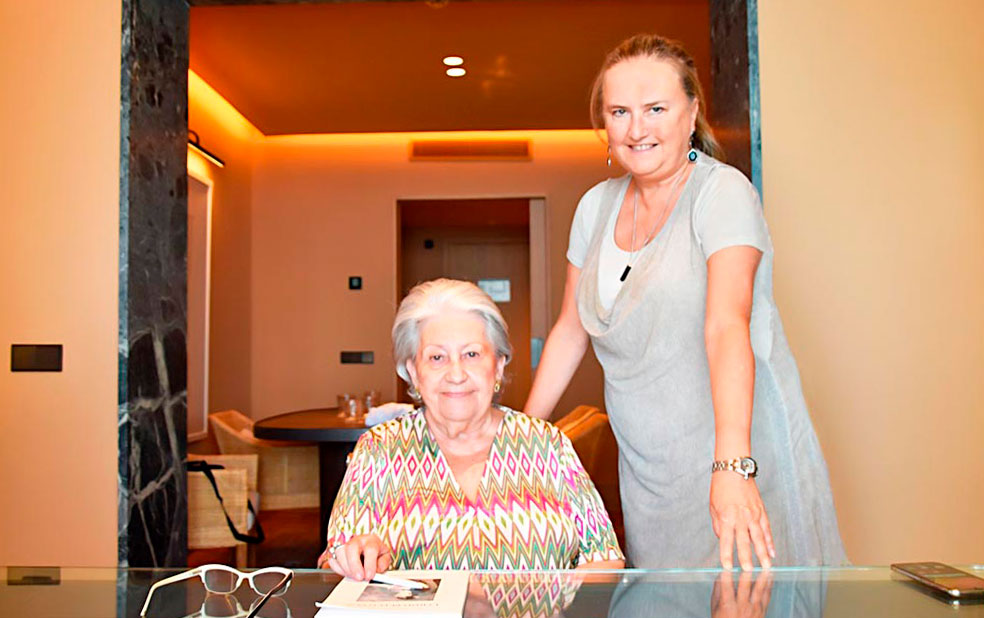 The writer Ana María Mata (left) signs a copy of "La Dama de El Fuerte" inside La Dama Selected Master Suite, together with Isabel Luque García, advisor of Fuerte Group Hotels and vice-president of the Fuerte Foundation.
28 July 2023. Although the chronicles of the time barely acknowledge its role, Elvira Vidal's guesthouse, located in the centre of Marbella and facing the sea, which at the time had its back turned, played an important role in the development of what was then a simple fishing village.
The Malagueña woman had bought the mansion, surrounded by vineyards and groves, in 1949, trying to forget the death of her husband. After a few years of relative anonymity, she met two of Marbella's great promoters, who encouraged her to emerge from her ostracism: Ricardo Soriano and Monsignor Rodrigo Bocanegra.
The need for liquidity and the costly upkeep of the estate led her to accept the suggestion of both figures to turn her house into a guesthouse. The fact was that the area was beginning to attract a large number of European jet-set and official figures, and there were hardly any hotels to accommodate them.
Elvira Vidal's first customers were Maximiliano Hohenlohe and Piedad Iturbe, who settled there with their sons Alfonso and Max. As word spread about her reputation as an excellent cook, the list of illustrious clients grew. The pension attracted numerous visitors, including the poet Jean Cocteau, the writer Ana de Pombo, the diplomat Edgar Neville, and the Parledé and Gross families, among others. This made it a fabled destination for the most intellectual and bohemian sectors of the era.
Elvira's hostess' skills were admirable, but the numbers didn't add up, and the debts piled up. In 1957, the lady known as 'La Dama de El Fuerte' decided to sell her house to the businessman José Luque Manzano, who bought it for 1,200,000 pesetas.
"The Lady of El Fuerte" according to Ana María Mata
The writer Ana María Mata, chronicler of Marbella and author of biographies of great Marbella personalities such as Ricardo Soriano and Monsignor Rodrigo Bocanegra, remembers perfectly well how Doña Elvira Vidal was a regular in her house when she was a child.
"She knew a lot of people, but she had hardly any friends. She was a splendid woman. Every Sunday she would buy 100 pesetas worth of churros and bring them home for breakfast, something that at the time was seen as huge", Ana María explains.
Her mother and she had coincided at La Goleta school, and for years they remained friends. Because of their friendship, Ana Mara Mata decided to write her biography in 1999. According to Amazon, it has become a very popular book for collectors.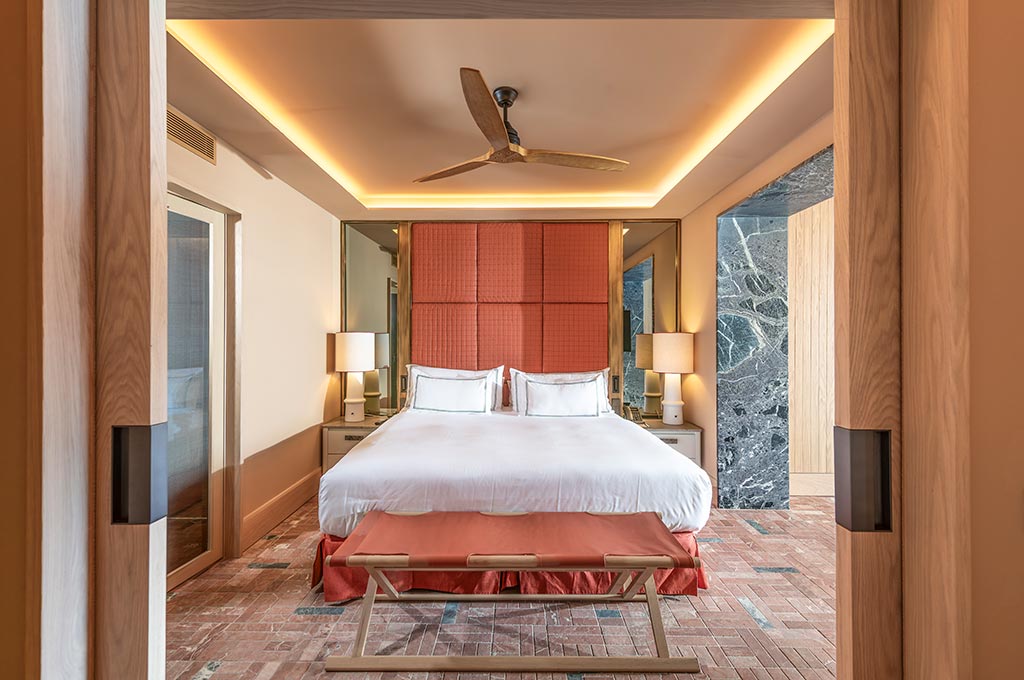 La Dama Selected Master Suite
A book that today has more meaning than ever as it is on display in the best room of the renovated 5-star hotel El Fuerte Marbella. The current owner, Fuerte Group Hotel, wanted to pay tribute to Elvira Vidal by dedicating a spectacular 85m2 suite, with a 29m2 terrace, called 'La Dama Selected Master Suite'.
According to Isabel Luque García, advisor of Fuerte Group Hotels and vice-president of the Fuerte Foundation and member of the company's Board of Directors, "when my father proposed to Elvira Vidal to buy his house to turn it into a hotel, she had received other offers to buy it, even from the Hohenlohe family. But she believed in my father, because she saw that he really wanted to turn his then guesthouse into one of the best hotels in town. And she loved Marbella. Thanks to her decision, my father got his start in the hotel business, and transformed El Fuerte into a benchmark of luxury and quality, which today, after being completely renovated, looks more beautiful than ever.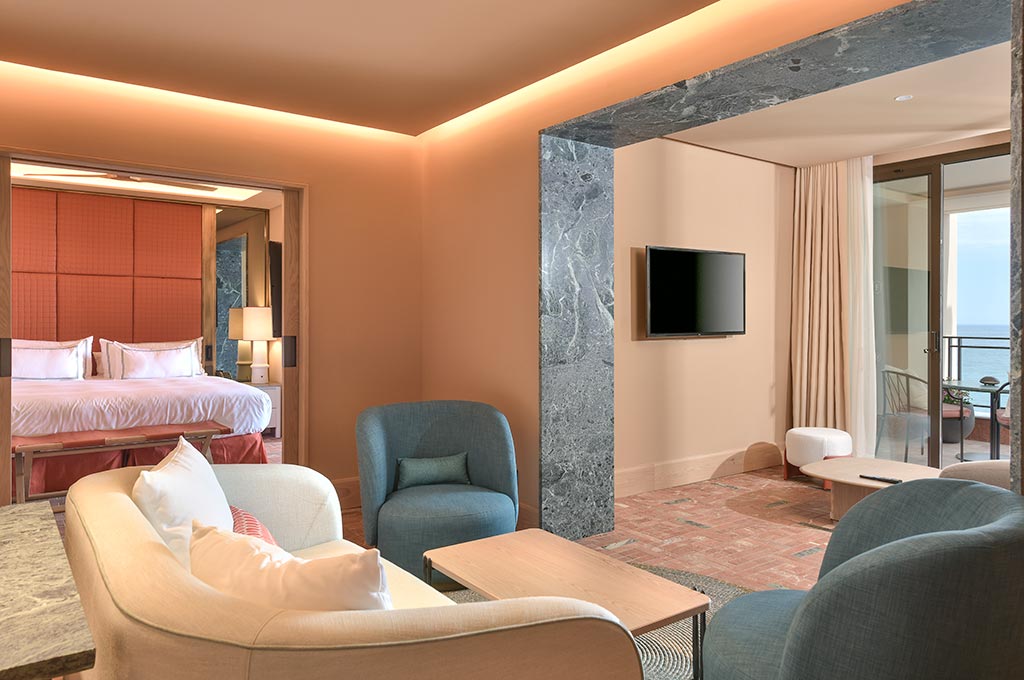 With the creation of this suite, he explains, "which, like the rest of the hotel, has been designed by the prestigious interior designer Jaime Beriestain, we want to pay a well-deserved tribute to a woman who, discreetly, contributed to the take-off of Marbella. She was a person who won people over, and who was also a forerunner in providing absolutely personalised customer service. That is why it is an honour that her figure is present in our best room".
'La Dama Selected Master Suite' is located on the fifth floor of El Fuerte Marbella, and enjoys spectacular sea views. It has a bedroom, a living-dining room with a kitchen, an office, and a beautiful dressing room. Elvira would have loved it.
The best suite in El Fuerte has a classic design and modern touches. It invites guests to learn about Marbella's past by reading 'La Dama de El Fuerte', which Ana Mara Mata signed.